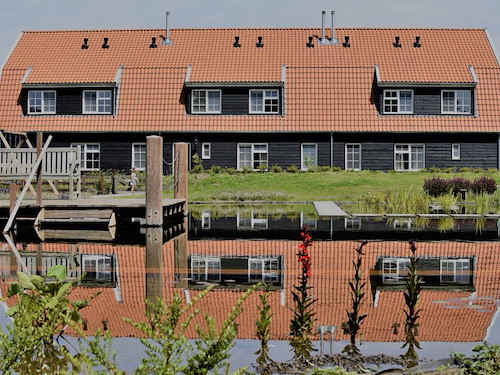 The name says it all, this spacious room is located in a luxury villa on the first floor with a breathtaking view over the Texel Landscape. The room has a beautiful luxurious bathroom with wellness shower, spacious washbasin and toillet. Oak doors, concrete elements, tasteful furnishings and upholstery make an overnight stay an experience!

It is possible to place a child's bed in the room, this can possibly be rented extra.

In the morning you can order a delicious breakfast of Texel regional products, which is delivered to your room.

The villa is fully equipped. Together with the other guests you can enjoy a beautiful rural kitchen, a spacious living room with cozy fireplace / wood stove, a deep garden and terrace with breathtaking views over the Texel landscape. The pheasants and other birds are walking in front of the door. There is free Wi-Fi throughout

There is a truly beautiful ecological swimming pond on the estate. There is ample and free parking with charging facilities for electric cars.
We want to make your stay on Texel as relaxed and relaxed as possible. We like to think along with you and do everything possible to arrange everything down to the smallest detail.
Bedroom

Televsion

Spacious closet wall (hang and leg)

Sink

Separate toilet

Wellness shower

Two single box spring beds (made up bed)

Other

Lockable doors

Charging stations electric bike

Chargingstations electric car

Parking lot (free of charge)

Wifi (free of charge)

Garden

Various play equipment

Ecological swimming pond

Terrace

Garden furniture

Living room

Gardendoors

Playtable

Spacioous dining area

Generous sitting area

Smart TV

Fireplace

Kitchen

Luxury tableware

Coffee machine

Quooker water tap

Open kitchen with cooking island

Dishwasher

Large refrigirator

Microwave

Hot air ovens

Vriezer

Availability & prices

Booked

Free

Arrival days

Departure days

February 2023
Mo
Tu
We
Th
Fr
Sa
Su
30
31
1
2
3
4
5
6
7
8
9
10
11
12
13
14
15
16
17
18
19
20
21
22
23
24
25
26
27
28
1
2
3
4
5
6
7
8
9
10
11
12

March 2023
Mo
Tu
We
Th
Fr
Sa
Su
27
28
1
2
3
4
5
6
7
8
9
10
11
12
13
14
15
16
17
18
19
20
21
22
23
24
25
26
27
28
29
30
31
1
2
3
4
5
6
7
8
9

April 2023
Mo
Tu
We
Th
Fr
Sa
Su
27
28
29
30
31
1
2
3
4
5
6
7
8
9
10
11
12
13
14
15
16
17
18
19
20
21
22
23
24
25
26
27
28
29
30
1
2
3
4
5
6
7

May 2023
Mo
Tu
We
Th
Fr
Sa
Su
1
2
3
4
5
6
7
8
9
10
11
12
13
14
15
16
17
18
19
20
21
22
23
24
25
26
27
28
29
30
31
1
2
3
4
5
6
7
8
9
10
11

June 2023
Mo
Tu
We
Th
Fr
Sa
Su
29
30
31
1
2
3
4
5
6
7
8
9
10
11
12
13
14
15
16
17
18
19
20
21
22
23
24
25
26
27
28
29
30
1
2
3
4
5
6
7
8
9

July 2023
Mo
Tu
We
Th
Fr
Sa
Su
26
27
28
29
30
1
2
3
4
5
6
7
8
9
10
11
12
13
14
15
16
17
18
19
20
21
22
23
24
25
26
27
28
29
30
31
1
2
3
4
5
6

August 2023
Mo
Tu
We
Th
Fr
Sa
Su
31
1
2
3
4
5
6
7
8
9
10
11
12
13
14
15
16
17
18
19
20
21
22
23
24
25
26
27
28
29
30
31
1
2
3
4
5
6
7
8
9
10

September 2023
Mo
Tu
We
Th
Fr
Sa
Su
28
29
30
31
1
2
3
4
5
6
7
8
9
10
11
12
13
14
15
16
17
18
19
20
21
22
23
24
25
26
27
28
29
30
1
2
3
4
5
6
7
8

October 2023
Mo
Tu
We
Th
Fr
Sa
Su
25
26
27
28
29
30
1
2
3
4
5
6
7
8
9
10
11
12
13
14
15
16
17
18
19
20
21
22
23
24
25
26
27
28
29
30
31
1
2
3
4
5

November 2023
Mo
Tu
We
Th
Fr
Sa
Su
30
31
1
2
3
4
5
6
7
8
9
10
11
12
13
14
15
16
17
18
19
20
21
22
23
24
25
26
27
28
29
30
1
2
3
4
5
6
7
8
9
10

December 2023
Mo
Tu
We
Th
Fr
Sa
Su
27
28
29
30
1
2
3
4
5
6
7
8
9
10
11
12
13
14
15
16
17
18
19
20
21
22
23
24
25
26
27
28
29
30
31
1
2
3
4
5
6
7

January 2024
Mo
Tu
We
Th
Fr
Sa
Su
1
2
3
4
5
6
7
8
9
10
11
12
13
14
15
16
17
18
19
20
21
22
23
24
25
26
27
28
29
30
31
1
2
3
4
5
6
7
8
9
10
11

February 2024
Mo
Tu
We
Th
Fr
Sa
Su
29
30
31
1
2
3
4
5
6
7
8
9
10
11
12
13
14
15
16
17
18
19
20
21
22
23
24
25
26
27
28
29
1
2
3
4
5
6
7
8
9
10

March 2024
Mo
Tu
We
Th
Fr
Sa
Su
26
27
28
29
1
2
3
4
5
6
7
8
9
10
11
12
13
14
15
16
17
18
19
20
21
22
23
24
25
26
27
28
29
30
31
1
2
3
4
5
6
7

April 2024
Mo
Tu
We
Th
Fr
Sa
Su
1
2
3
4
5
6
7
8
9
10
11
12
13
14
15
16
17
18
19
20
21
22
23
24
25
26
27
28
29
30
1
2
3
4
5
6
7
8
9
10
11
12

May 2024
Mo
Tu
We
Th
Fr
Sa
Su
29
30
1
2
3
4
5
6
7
8
9
10
11
12
13
14
15
16
17
18
19
20
21
22
23
24
25
26
27
28
29
30
31
1
2
3
4
5
6
7
8
9

June 2024
Mo
Tu
We
Th
Fr
Sa
Su
27
28
29
30
31
1
2
3
4
5
6
7
8
9
10
11
12
13
14
15
16
17
18
19
20
21
22
23
24
25
26
27
28
29
30
1
2
3
4
5
6
7

July 2024
Mo
Tu
We
Th
Fr
Sa
Su
1
2
3
4
5
6
7
8
9
10
11
12
13
14
15
16
17
18
19
20
21
22
23
24
25
26
27
28
29
30
31
1
2
3
4
5
6
7
8
9
10
11

August 2024
Mo
Tu
We
Th
Fr
Sa
Su
29
30
31
1
2
3
4
5
6
7
8
9
10
11
12
13
14
15
16
17
18
19
20
21
22
23
24
25
26
27
28
29
30
31
1
2
3
4
5
6
7
8

September 2024
Mo
Tu
We
Th
Fr
Sa
Su
26
27
28
29
30
31
1
2
3
4
5
6
7
8
9
10
11
12
13
14
15
16
17
18
19
20
21
22
23
24
25
26
27
28
29
30
1
2
3
4
5
6

October 2024
Mo
Tu
We
Th
Fr
Sa
Su
30
1
2
3
4
5
6
7
8
9
10
11
12
13
14
15
16
17
18
19
20
21
22
23
24
25
26
27
28
29
30
31
1
2
3
4
5
6
7
8
9
10

November 2024
Mo
Tu
We
Th
Fr
Sa
Su
28
29
30
31
1
2
3
4
5
6
7
8
9
10
11
12
13
14
15
16
17
18
19
20
21
22
23
24
25
26
27
28
29
30
1
2
3
4
5
6
7
8

December 2024
Mo
Tu
We
Th
Fr
Sa
Su
25
26
27
28
29
30
1
2
3
4
5
6
7
8
9
10
11
12
13
14
15
16
17
18
19
20
21
22
23
24
25
26
27
28
29
30
31
1
2
3
4
5

February 2023

There are no prices for this month

March 2023

April 2023

May 2023

June 2023

July 2023

August 2023

September 2023

October 2023

November 2023

December 2023

January 2024

February 2024

Previous month Next month